Top Ten Things To Do In Krakow
As we head into Autumn and Winter and leave the warmth of the Summer and beaches in our wake, many people decide to choose city breaks across Europe, mixing culture, cuisine, history with the ubiquitous Christmas Markets which spring up across the continent at this time of the year.
In recent years new cities have been "discovered" aided by the plentiful supply of low cost flights connecting our cities with so many great new destinations. One such city which has seen a huge surge in interest is the Polish city of Krakow. The city was Poland's capital until 1596 and it claims the title of the oldest medieval square in Europe.
A Krakow city break offers so many things to do in the city and close by, these are our suggestions:
1. KRAKOW'S OLD TOWN AND SQUARE (STARE MIASTO)

The old town of Krakow is one of Poland's most treasured places to visit and was included in the first ever UNESCO world heritage lists in 1978. It is filled with priceless cultural treasures, cobbled squares and courtyards, literary cafes and some fabulous cellar bars and is the focal point of the city.
The central point of the city is Rynek Glowny – the oldest medieval market square in Europe.
2. AUSCHWITZ-BIRKENAU CONCENTRATION CAMP

For centuries the town of Oświęcim was a sleepy backwater but this all changed during the Nazi occupation of World War Two and the town became known as "Auschwitz", and the camp built there became the largest death camp with between 1.2 and 1.5 million people murdered by the Nazis.
Deciding whether to visit Auschwitz will require some soul-searching, and it is perfectly understandable why those that choose not to do so make their choice. On the other hand, most people that do visit do not regret it. The Auschwitz museum and story is tactfully dealt with and does have a profound effect on visitors whatever draws them there.
3. WAWEL – KRAKOW'S CASTLE COMPLEX

Wawel is situated on a hill to the south of Krakow and is a collection of buildings inspired by Romanesque, Renaissance and Gothic style and dates back to the 14th century onwards, Wawel is regarded by many as the crown jewel of Krakow's architectural treasures.
The complex of buildings in Wawel includes the castle and cathedral as well as many other buildings which contribute to Wawel being regarded as a huge symbol of Polish identity. It is free to enter but may be worth pre-booking admission a couple of weeks before your trip due to it's huge popularity.
4. KAZIMIERZ – THE JEWISH DISTRICT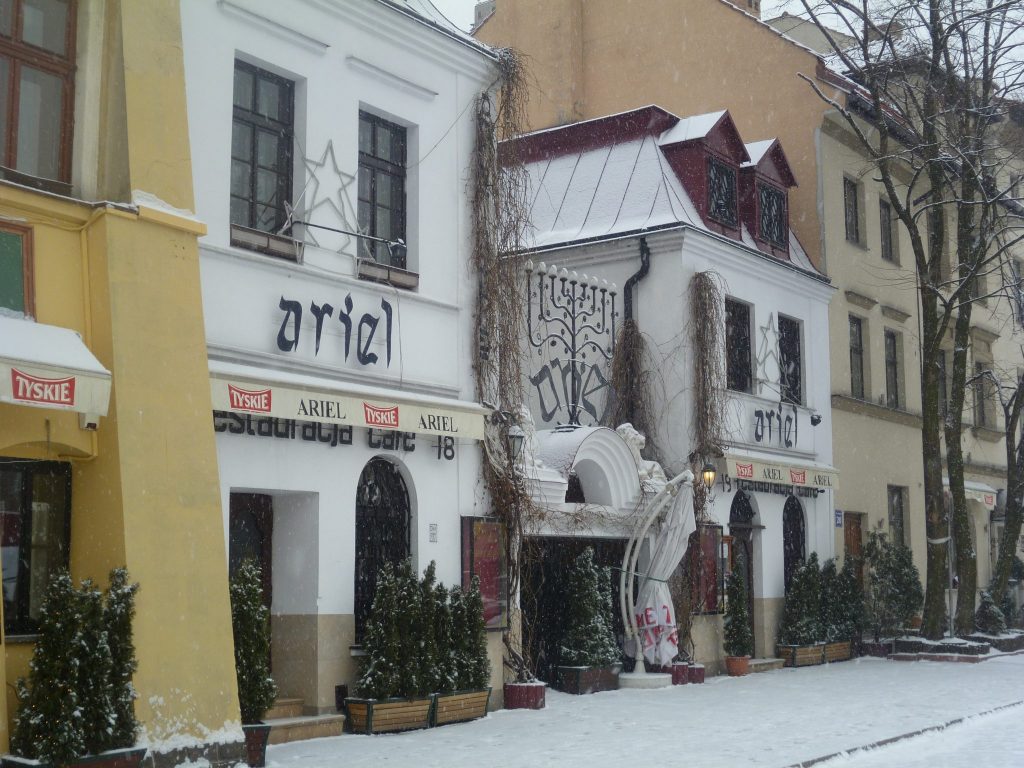 Lying to the south of Krakow old town is the former Jewish quarter, Kazimierz. Famed for its Jewish heritage and synagogues, Kazimierz is now renowned for some of the best bars and restaurants in Krakow.
Kazimierz developed in the early 1990's as cheap properties were bought up by developers and lots of small, bohemian bars were created and typified by rough around the edges, candlelit establishments selling booze. Today, it is a great venue for pubcrawls and late night eating and is very popular with tourists.
5. ONCE UPON A TIME IN KAZIMIERZ

Leading on from the previous piece on Kazimierz we focus on a great place named "Once Upon a Time In Kazimierz".
Walk down Miodowa Street and you are faced with a row of four shabbily painted shops; a carpenters, tailors, grocers and general store, but behind the facade is "Once Upon A Time In Kazimierz". The four shops have had their internal walls removed so the only division you see is that in each part of the former shops are relics from that trade, such as sewing machine in the tailors, woodwork tools in the carpenters etc.
"Once Upon a Time In Kazimierz" is now a Jewish restaurant with music played on certain nights of the week as well as a great menu. We suggest you book a table and enjoy an evening of Jewish culture which takes you back to the days before the Second World war.
The image shows you how the place still looks today (so you know what you are looking for!)
6. SCHINDLER'S FACTORY

In 1993 Steven Spielberg's film Schindler's List ensured that Krakow became known throughout the world, with much of the film shot in the city of Krakow itself.
The film told the story of Oskar Schindler Enamelled Goods Factory and its part in saving the lives of many Jewish people who were employed by Schindler in his factory. The factory opened as a museum in 2010 and it is advisable to plan your visit here in advance as numbers are controlled, so you avoid the disappointment of being turned away on the day.
7. WIELICZKA SALT MINE
The area around Krakow was thought to have been at the bottom of a shallow, salty sea around 20 million years ago. Nature left behind vast salty deposits below Krakow and due to the mineral's value this was mined from the 13th century onwards.
Today, Wieliczka Salt Mine, which is around 15kms outside Krakow, attracts more than 1.4m visitors every year and showcases the amazing sculptures created by the miners as well as the tools and technology used by the miners.
Book tickets online or if you prefer join a tour from Krakow which will include transportation and admission to Wieliczka Salt Mines.
8. KRAKOW CLOTH HALL

It has been labelled the world's longest established shopping mall, there has been a trading hall since the 1300's, and today is has a heap of stalls selling all kinds of Polish souvenirs including amber jewellery, wood carvings, lacework and cloth. Walking down the centre of the row of shops presents a great assortment of trinkets for visitors to choose from and not the normal run of the mill stuff.
The hall has a great history of trading, with merchants dealing in salt from the nearby mines, lead as well as spices, leather wax and other commodities.
9. KRAKOW FREE WALKING TOUR

Across many European cities free walking tours have become very popular and are a great way to introduce guides to visitors with little risk. By joining a free walking tour in Krakow you will find a guide who is enthusiastic and who is motivated to offer a great experience due to him/her relying on you tipping. Additionally, these guides often offer alternative paid excursions which once they have your trust they hope you will consider.
In Krakow, Walkative Tours are a highly recommended tour guide offering free walking tours. You can also consider joining one of their paid tours which separately cover Jewish & Holocaust Krakow, Macabre Krakow, as well as street art and WW2 Krakow tours.
10. THE HEAD
One of the most popular of Kraków's landmarks is "The Head" which occupies a corner of the market square and has become a popular meeting place. It is also a popular point for photographers who want to take selfies with a unique backdrop.
This bronze sculpture's official title is 'Eros Bendato' (Eros Bound) and was sculpted by local Polish artist Igor Mitoraj who was a former student of the Kraków School of Art.